One the UK's largest event venues, Manchester Central, has opened up its state-of-the-art broadcast studio to a range of businesses and organisations, signaling the beginning of the new era of hybrid conferencing in the UK.
Image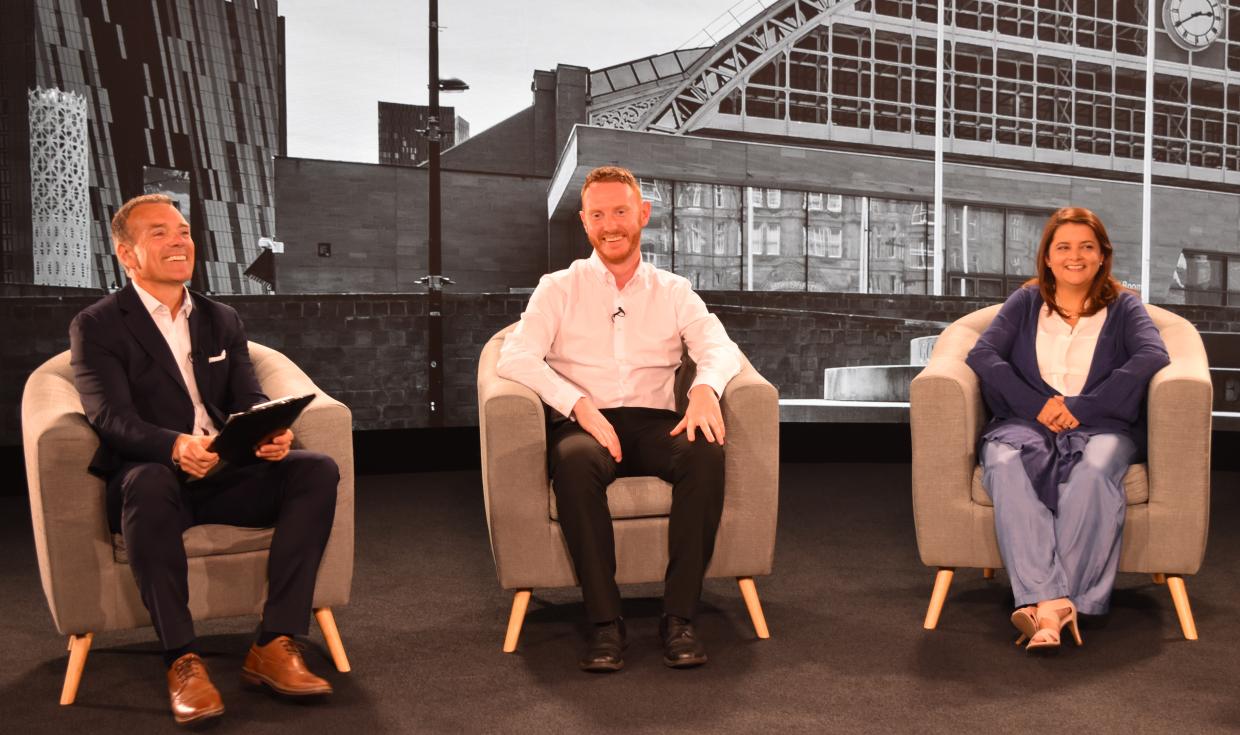 Single width
Under the banner of 'Studio Sessions', the venue, which launched its Studio at Manchester Central concept earlier this year, has opened up the doors of its newly launched facility to give city partners and clients an insight of what studio capabilities on this scale can add to virtual and hybrid events. Featuring a fully integrated set with customisable LED backdrops, lighting, full audio and vision equipment, Studio is fully equipped to help businesses produce high-quality content for both virtual and live event experiences.  
In preparation for this change, several members of the Manchester Central team have successfully completed qualifications from the Virtual Event Institute, ensuring the business is at the forefront of best practice and can advise clients on how to get the most out of hybrid and virtual events. 
The TV-quality broadcast studio facilitates the professional recording and streaming of panel sessions, product showcases, virtual conferences and podcasts and sits alongside the venue's 'plug and play' hybrid offer, 'Live from the Auditorium'; housed within its purpose-built 800 seat space which supports professional live streaming in real-time to audiences at home, at the same time as hosting delegates in the room. Manchester Central attracts over half a million visitors to the city each year and brings approximately £150m into the Greater Manchester economy in an average year. It now has more than 100 events scheduled for the remainder of 2021, many of which will utilise a range of hybrid, virtual and in-person facilities.  
Shaun Hinds, CEO at Manchester Central, said the venue was fully prepared for a rise in demand for hybrid facilities as a complementary element of the overall event experience. He added: "We fully expect digital and real life activities to co-exist and complement each other to make events accessible for everyone, as well as restore in-person confidence. 
"We're absolutely delighted to have been able to welcome a variety of our partners to our Studio at Manchester Central in recent weeks. Hybrid conferencing is increasingly popular and our job is to help businesses and event organisers understand how to tap into its true value and potential. Not only does this way of delivering event content help to reach more delegates from across the UK and beyond, it also enables organisers to provide a more curated and personalised event experience. This in turn presents new commercial opportunities for sponsors and event partners to achieve brand exposure."     
Greater Manchester Chamber of Commerce attended a 'Studio Sessions' panel event. Lewis Crowe, Head of Membership, said: "I really can't describe just how impressed I am, it exceeded all of my expectations. It's a fantastic studio set-up, with wonderful staff that make you feel at ease, which is really important with this kind of thing. It's certainly an impressive experience and something I'd love the Chamber to be involved with again in the future." 
Hinds added: "We know that there will be a place for professional, virtual content creation and production in the new era of how we communicate and engage with audiences. We're harnessing what we've learnt in this field and utilising it to reimagine events of the future." 
Just last week the venue hosted Housing 21, the North West's largest in-person conference for 18 months, which brought around 8,000 delegates to the area.  
Hinds said: "The future of large scale events is about providing a range of options - from virtual and hybrid platforms through to the very best facilities where people can meet - that can be tailored to the specific requirements of every event. 
We've worked incredibly hard to ensure we have the capabilities to deliver this here at Manchester Central and we're delighted to be able to successfully host events of all shapes, sizes and formats."  
For more information about hybrid events and Studio at Manchester central, visit www.manchestercentral.co.uk/Studio   
None
Background colour
Dark teal