ABOUT THIS COOKIES POLICY
This page describes our cookie policy for our website www.manchestercentral.co.uk.  
What are cookies?
A cookie is a small text file which is stored on your browser or the hard drive of your computer (or other electronic device) when you access our site, and which contains certain basic information on its users.
How do we use cookies?
We use cookies to distinguish you from other users of our website and to provide a browsing experience that is unique to you. Cookies are used by us so that our website can remember what you have done whilst browsing, for example your log-in details to our site. They also help us and our advertising networks to make advertising relevant to you and your interests, based on your past browsing behaviour (details of how to opt out of such interest based advertising are set out below).
Without cookies enabled we can't guarantee that the website and your experience of it will be as we intended it to be.
What type of cookies do we use?
At Manchester Central, we use the following cookies: 
Analytical/performance cookies. These allow us to recognise and count the number of visitors to our website and to see how visitors move around when they are using the website. All of this information helps us to improve the way our website works.
Functionality cookies. These cookies are used to recognise you when you return to our website. This enables us to personalise our content for you, such as remembering your preferences and log in details.
Strictly necessary cookies. These are cookies that are required for the operation of our website, including cookies that enable you to log into areas of our website.
You can find more information about the individual cookies we use and the purposes for which we use them and the time after which they will expire in the table below: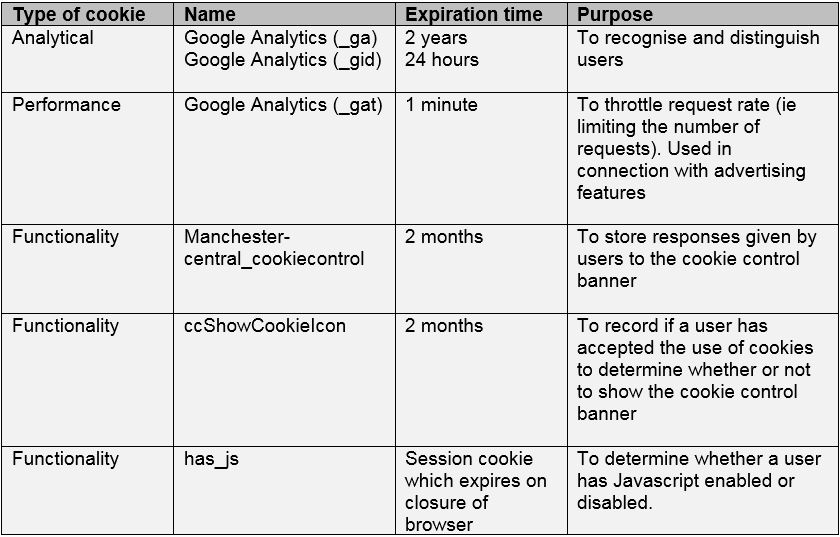 We also use certain cookies which are required in order for the site to work, for example if a user is logged in to the site, we use a cookie in order for the user to remain logged in to the site as they navigate the site. This cookie has an expiration time of 23 days.
By continuing to use our website, you are agreeing that we can use cookies in accordance with this policy, unless you indicate that you wish to turn cookies off through the cookie pop up notice on our site. Please be aware that if you block our use of cookies, you may be unable to access certain areas of our websites and certain functions and pages will not work in the usual way.
We have set out information below about other ways to refuse cookies.
How do you block cookies?
Most browsers allow you to refuse cookies. For guidance on how to do this, you can find out more at www.aboutcookies.org or click help in your browser menu.
You can opt-out of interest based advertising by visiting the following websites:
http://www.networkadvertising.org/choices/
http://www.youronlinechoices.com/
Please be aware that if you block our use of cookies, you may be unable to access certain areas of our websites and certain functions and pages will not work in the usual way.
Changes to the Cookies Policy
We may update this policy from time to time to keep up to date with the latest legislation guidelines. You should check this page occasionally to ensure you are familiar with any changes. 
None
Summary
This page describes our cookie policy for our website www.manchestercentral.co.uk.