Have a question?
Here you will find answers to our most frequently asked questions.
If you can't find what you're looking for here, please contact our team on info@manchestercentral.co.uk 
White
Image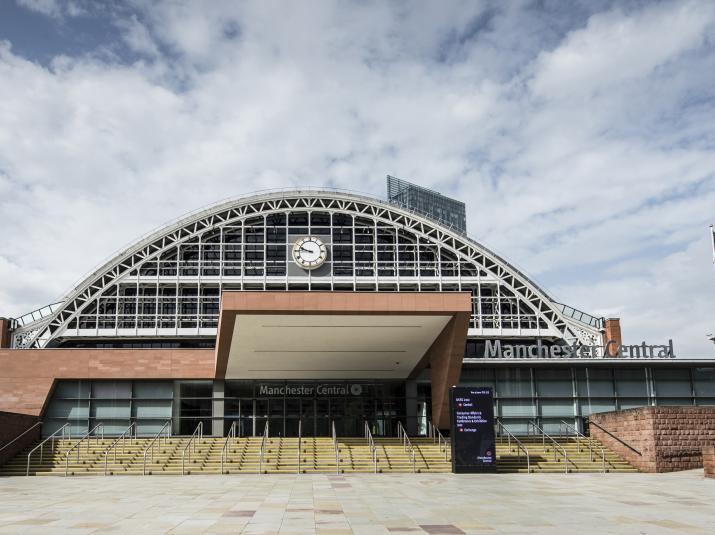 Dark blue
How accessible and disabled guest-friendly is Manchester Central?
Most of our exhibition space is on the ground floor/street level and can be accessed via the main entrance.
All our entrances are fully ramped and accessible. Once inside, events on the first floor can be accessed via stairs or lifts. There is plenty of space in the Exchange Auditorium for wheelchairs.
Wheelchairs can be hired for use within the venue. To enquire about bookings and availability, contact the First Aid department on + 44 (0)161 834 2700 ext. 2211 or email us. Bookings should be made in advance as availability cannot be guaranteed otherwise.
Please note that Manchester Central wheelchairs must not be removed from the venue.
How do I get to Manchester Central?
Manchester Central welcomes guests from all over the world. Visit Getting here to help plan your journey.
Where is the nearest car park and how much does it cost?
There is an NCP (National Car Park) directly below Manchester Central that is open 24 hours a day all year round. It has 720 spaces including 18 disabled parking bays and there is direct access to Manchester Central by lift, stairs and escalators. 
For more information and prices contact NCP:
Tel: +44 (0)161 817 8900
Website www.ncp.co.uk
If using a satellite navigation system - please follow the postcode M2 3GX. More detailed directions are available in your delegate/exhibitor introduction pack.
How can I check an upcoming event at Manchester Central?
Can I come for a site visit?
Site visits can be really helpful when choosing an event venue. We have lots of different spaces at Manchester Central and we'd be happy to show you around. 
Email our sales team to book a visit in advance. Site visits are appointment-only to ensure specific spaces are not in use.
Alternatively you can book a virtual guided tour with one of the team here.
Do you have a lost property store?
Manchester Central keeps lost property for two months. After this time it is given to charity. If you have lost something at Manchester Central, email our concierge team or call 0161 834 2700.
How do you accept deliveries?
Manchester Central has a dedicated loading bay at the side of the venue on Watson Street. All standard deliveries arrive here. Events may have specific loading and unloading arrangements. Speak to the event organiser for more information.
Is there somewhere to park my bicycle?
We have bike stands on the main forecourt. The stands are for push-bikes only, not motorcycles.
Where can I find information on other attractions in Manchester?
Manchester is a dynamic city with a fascinating history. Call in to Manchester Visitor Information Centre on Piccadilly Plaza or take a look at www.visitmanchester.com for ideas on what to see and do.
Can you recommend any hotels?
There are over 2500 hotel bedrooms within a 5-minute walk of Manchester Central. Another 6000 are available in the wider city centre. Visit our accommodation listings for further information.
Where is the nearest ATM/cash machine?
There is a ATM/cash machine in our Central Foyer. Alternatively, the closest banking facilities are: Royal Bank of Scotland, Mosley Street and Barclays, Mosley Street.
Does the venue provide wireless internet access?
Manchester Central offers free WiFi to all our visitors.
Is there a general information desk?
There are two concierge areas at Manchester Central - one within Charter Foyer and one in Central Foyer. The concierge team always do their best to answer your questions and can provide information about the venue, events and the local area.
Where is Manchester Conference Centre?
Manchester Conference Centre is not part of Manchester Central but you can find it on Sackville Street, Manchester M1 3BB. Telephone 0161 955 8000 or visit www.manchesterconferencecentre.co.uk.