In December, Computing Insight UK - the UK's leading high performance computing conference and exhibition, organised by the Science and Technology Facilities Council returned to Manchester Central.
Held across the venue's Charter Suite and its light and spacious Gallery, the event brought together 400 delegates for an exhibition of the latest High-Performance Computing (HPC) hardware and software.
Image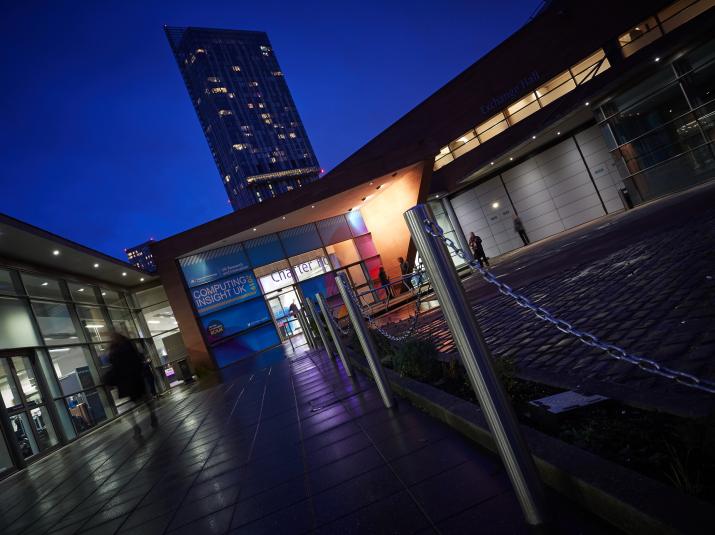 Display width
Double width
Background colour
Light blue
The two-day event also included a programme of presentations about the use of HPC in real life situations. Attendees were able to hear success stories, as well as learning about some of the challenges encountered as projects made use of the latest HPC tools and equipment.
Speakers also shared some of the solutions and best practice they had implemented to make their projects a success!
Computing Insight UK, now in its 4th year at Manchester Central supports attendees to engage with a wide selection of hardware and software vendors and resellers all under one roof, enabling attendees to be able to maximise valuable event time and productivity.
Damian Jones, Project Office Manager for the Computational Science Centre for Research Communities (CoSeC) explained why they chose Manchester Central:
"We were looking for a city center venue that had the flexibility and resource that our event required. After visiting locations in four major UK cities it was clear that Manchester Central gave us the best options to be able to successfully grow our event.
"There are a number of things that I really like about Manchester Central but some of my favourite include its cost, location, the professionalism of the event team and the service that we receive year on year.
"We are probably quite a small conference in terms of some of the other events that take place at the venue, however the team always ensure that we feel just as important as the large ones! 
Damian went to describe his experience in dealing with the venue team. He said:
"The team at Manchester Central are brilliant and no request is too much trouble for them! Having worked with them for the last four years now, I am filled with confidence that our event will always run smoothly and know that the team are always on hand should we need them!"
None