The British Insurance Brokers' Association (BIBA) is the UK's trade association for insurance brokers. The annual event brings together the largest insurance broking community in-person for two days of networking, insights, and visionary speakers.
Image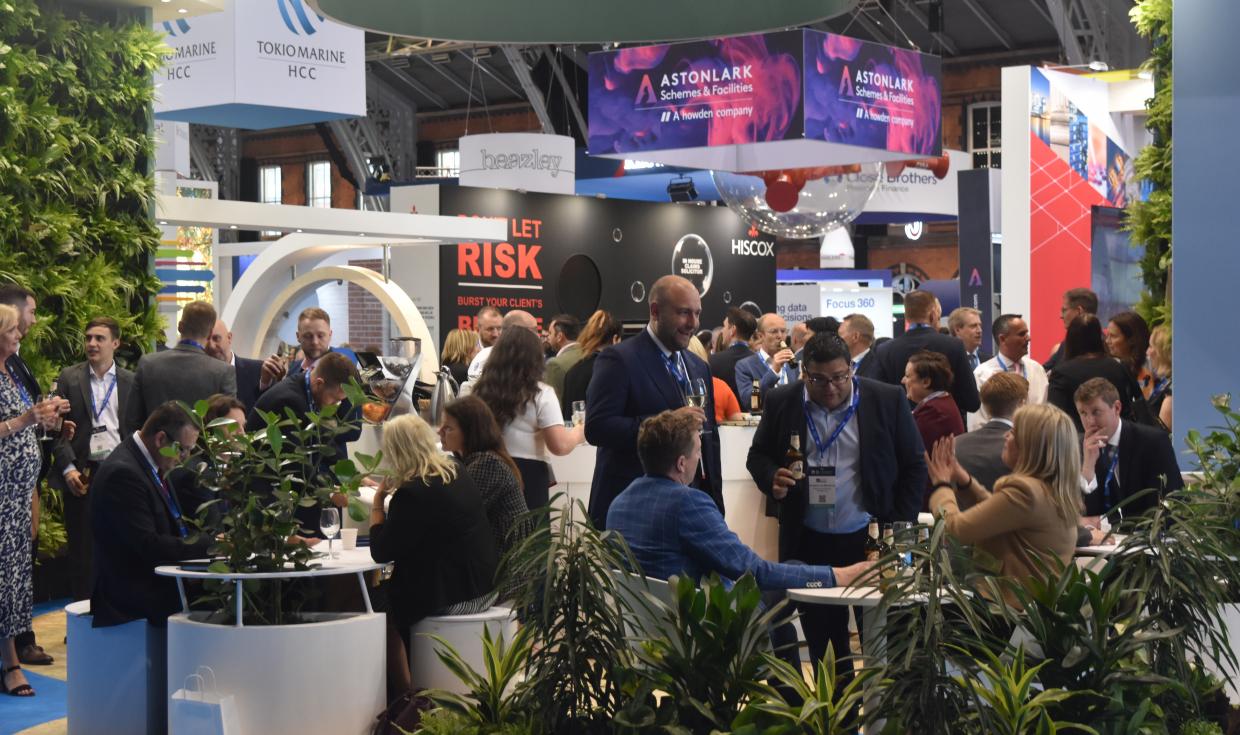 Display width
Single width
Background colour
Light blue
BIBA have chosen to host their event at Manchester Central for over a decade and consider this their 'venue home'.
The two-day event consists of a large exhibition in Central Hall, and a mix of keynote speaker and seminar sessions as well as number of fringe sessions.
This year's event was hosted by BBC's Huw Edwards and the keynote speakers included Manchester Mayor, Andy Burnham and Olympians Dame Laura Kenny, Jonnie Peacock MBE and Nicola Adams OBE. The keynote sessions were hosted in Exchange Auditorium and Charters 2&3 were combined to stage the seminar sessions.
Welcoming delegates to the venue, BIBA made use of the available branding opportunities, hanging banners from the gable, vinyl wrapping the entrance, and taking over the digital signs. In addition, they also utilised the forecourt space allowing some of the exhibitors to install promotional items…and even had a sponsor ferry delegates to and from the station in old Minis!
BIBA also included a Wellness Zone for 2022. This included stretching workshops, bite-sized talks on mental health and wellbeing and massage therapy. The workshops were extremely well received by both delegates and exhibitors alike and the team are looking to develop the offering further for 2023.
More than half of delegates travel to the conference nationally or internationally, and the city provides the perfect destination for everyone to meet. With a range of hotels to suit all budgets, and an array of bars and restaurants within walking distance of the venue, the city brings a fantastic social element to the event.
None
Well, what a Conference! In the early planning stages, we set out to create an event to truly reunite the insurance industry in-person after a three year hiatus due to the pandemic…and so we were absolutely delighted to not only achieve our expectations but have one of the busiest BIBA Conferences we have ever had.
To see thousands of insurance professionals again under one roof networking and doing business was terrific. The Conference sessions were inspirational and educational, and our Young Broker Day helped support and develop the next generation starting out in the industry. The stand-out session for me was of course hearing Andy Burnham Mayor of Manchester discuss his aspirations for the city region.
Manchester warmly welcomes us each year and it's always wonderful to work with the staff at Manchester Central, some of whom have been helping us deliver the BIBA Conference for many years. We are already looking forward to 2023!
Emma Chapman
BIBA